Drive for Five
The Gamecock Club and the University of South Carolina Athletics Department have announced an initiative to obtain 5,000 new Gamecock Club members.
Join Now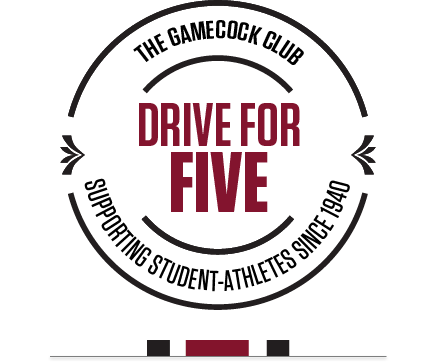 There has never been a better time to be a Gamecock Club member than now! Whether you purchased single game tickets, buy tickets through a friend who is a member, or don't make it to Columbia but once or twice a year, there is a Gamecock Club membership for you!
Why Join?
2 FREE tickets to a Gamecock game of your choice per year
Use your tickets to give to a friend, take in a sport you don't typically attend, or use them for yourself.
Exclusive discount days
Throughout the year, special promotional offers will be communicated for you to receive exclusive discounted tickets.
Support Gamecock student-athlete scholarships
The Gamecock Club proudly supports tuition, meals, housing, medical costs, injury assistance, and educational needs for over 570 Gamecock student-athletes.
Purchase season tickets
Gamecock Club members have the opportunity to purchase renewable season tickets to various Gamecock sports.
Garnet Market discounts
Members can enjoy discounts on local dining, hotel stays, and retail services by showing their Gamecock Club membership card.
Join Today